Rotary dryers are one of the most common types of industrial dryer, utilised for large quantities of material with particles of size 10 mm or larger. Typical rotary dryer consist of cylindrical shell made of steel plates slightly inclined (1O to 5O) to horizontal to assist the transportation of the wet material fed for the processing, shell is typically 0.3-5 m in diameter, 5-90 m in length and rotating at 1-5. Rotary dryer shell tube acts as body to transfer the wet feedstock and number of steam heated tubes are placed symmetrically around the perimeter and rotate with it. Wet material is fed into the upper end of dryer and the material travels through it by virtue of rotation and slope of the shell and dried product is picked as the lower end. The feed rate, speed of rotation of shell, the volume of heated air or gases, and their temperature are so regulated such that by the time material reaches to discharge point of rotary dryer it's accurately dried.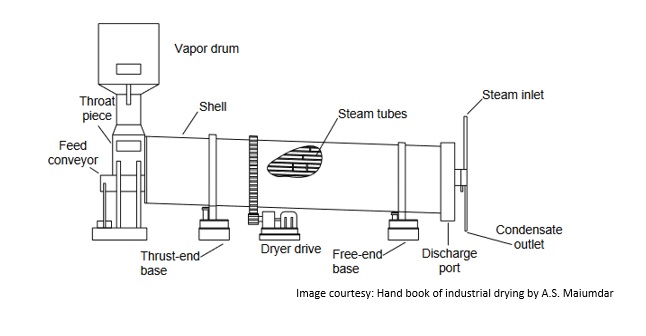 Rotary dryer performs due role in complete drying process, 1) as a conveyor, carrying/ moving material from feed end to discharge end 2) as heating/ drying device. Movement of material within the dryer is influenced by the lifting, cascade action, sliding and bouncing.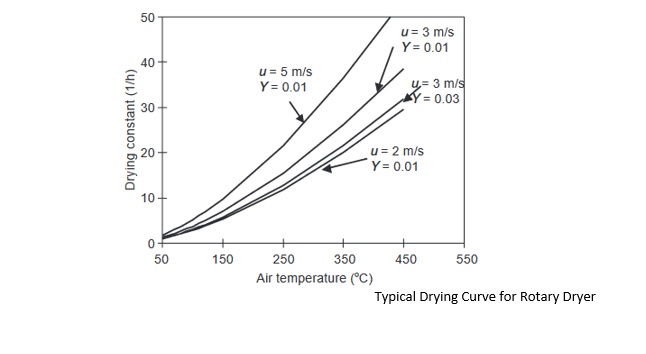 Kerone has helped more than hundreds of accurately designed and crafted rotary drying solution varying in size dimension and drying capability. Till dates we have delivered the rotary dryers for approximately for all possible type of industrial application, catering to such large diverse need of industry we have built the rotary system of many types for both batch type rotary drying as well as continuous type rotary drying applications. The key classification of rotary dryers are as follows:
Direct Rotary Dryer
Direct rotary kiln
Indirect steam-tube dryer
Indirect rotary calciner
The efficiency is significantly enhanced by insertion of longitudinal plates inside the cylinder these are known as lifting flights. Their purpose of the lifting flights is to lift and shower the solid particles through the gas stream where the air is hottest and minimum moisture is hold. The edge of the lifter can be bend inward or right angle for uniformly processing the material. Typical flight arrangement are as shown below.