Hot Air Generator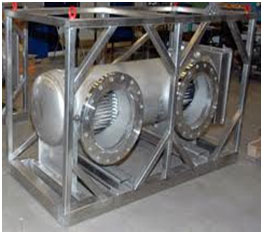 A fully automatic multi pass counter current Hot Air Generator consist of stainless steel shell type integral combustion chamber accommodated in multi M.S. shell. The cold air is inserted by a suitable capacity blower fan in first pass, absorbs heat from flue gas passage and accordingly both hot flue gas and cold air travel in opposite direction in the passage which ultimately transfers 90% heat to cold air and delivers hot air from hot air outlet hole. The system functions fully automatic on temperature sensing device installed at hot air outlet which ON-OFF the burner at pre-set temperature. the system is a package type unit, fixed on common base frame.
We at KERONE are having 45+ years experience in designing and manufacturing various types of specialized industrial machines for the processing need of our clients. The heavy, industrial construction and precise airflow handling of the hot air generators are designed to handle abrasive and harsh working environments, while providing continuous and effective working lines. We are having immense experience in providing customized machinery to suit various industrial requirements of our esteemed clients meeting the industry's requirements for intense and rigid equipment design. The dryers manufactured by KERONE are made with high quality internal and external material by taking discreet efforts for the perfect size and desired operations.
Application:
This equipment is suitable for supplying dry air which keeps the power equipments' inner parts from moisture in the maintenance of transformer, reactor and other big power facilities. Maintenance staff will not be short of oxygen working inside the equipment. It is more reliable, economic, convenient and safer than nitrogen.