Ceramic is an inorganic non-metallic solid made up of either metal or non-metal compounds that have been shaped and then hardened by heating to high temperatures. In general, they are hard, corrosion-resistant and brittle and been in use for thousands of years. We have practically been living in a ceramic world as almost every material like; Glass, tiles, pottery, porcelain, bricks, cement, diamond, and graphite, contains ceramic.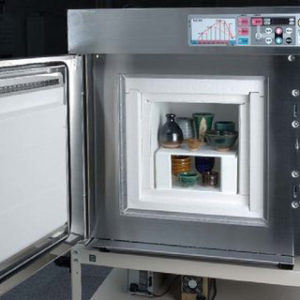 Ceramics are also called as "refractory" materials, which is a material science term that means competent of putting up with everyday abuses like extremes of temperature change, attacks from acids and alkalis, and general wear-and-tear, these properties makes the material durable, better functioning and economical. Understanding all these exceptional properties, it is also being used in various Industrial heating systems.
Ceramic heating systems, whether emitting microwave or infrared rays provide heat by sending electricity through the heating plates. As the plates get warmer, they heat up the aluminium baffles. Then, a fan blows the warm air from the baffles and into the room. One of the many benefits of using this type of heater is that it provides a constant source of heat but doesn't get hot enough to pose a fire hazard or burn risk. Since the heating elements in this heater are completely surrounded by the ceramic parts, it is safer than most other types.
Some significant features of these Industrial systems:
Efficiency and Speed – These heaters do not waste a lot of energy.
Overheating Prevention and Security – Fans and thermostats inside the heaters prevent it from overheating.
Convection over Radiation – These heaters work by way of convection heating.
Size and Portability – Easily portable as not huge in size.
Safety Features and Characteristics – able to operate at a low temperature and do not emit any poisonous fumes or chemicals.
KERONE has a wide range of Infrared/ Microwave heating systems in Ceramic and Quartz Types. Available Ex-stock (With thermocouple & without thermocouple from 100 watts to 1000 watts) for Applications such as:
Curing of coatings
Plastic shrinking/ shrink packaging
Plastic heating prior to forming
Plasticize foils & sheets Glass & metal heat treating
Thermoforming and Vacuum Forming.
PVC Pipe belling and Socketing.
Drying various material (wood, paper and eatables)
Hot stamping.
Heat Therapy.
Cooking
As every coin has two sides, just like that with so many invaluable advantages Ceramic heating systems too have a couple of disadvantages; it only works on electricity and though it is safe than other heaters, it should never be taken for granted and must always be handled with care & concern.
KERONE is named among the leaders of Infrared or Microwave Ceramic heating system's manufactures based on the specialized heating and drying need of customers, our highly efficient team of engineers are expert in the manufacturing the customized heaters
Why choose us?
Accuracy, efficiency, machine quality and output quality are not just words but KERONE's lifetime commitment towards our profession since last 42 years, creating a base of more than 1000 loyal customers. Our ceramic heating systems are used to meet the varying demands of numerous industrial applications – all with a level of precision that manufacturers seek. We also provide detailed assistance for installation without much hassle of complex functioning of the machinery. We always strive to achieve more than client satisfaction with our timely delivery, quality and efficiency towards every oven manufactured by us.