Dairy products are basically products made from containing milk of mammals, which include food products like yoghurt, cheeses and butter among others. These products have been a part of staple food in many countries and used in traditional cuisines as well. Rates of dairy consumption vary widely worldwide. The consumption can be as high as 150kg per capita and also under 30 kg per capita in some countries.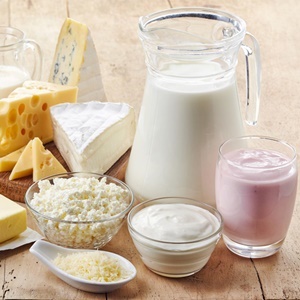 Milk is a valuable nutritious food that has a short shelf-life and requires careful handling. Milk is highly perishable because it is an excellent medium for the growth of microorganisms – particularly bacterial pathogens – that can cause spoilage and diseases if consumed without precautions. Hence, milk processing, this allows the preservation of milk for days, weeks or months and helps to reduce food-borne illness. The usable life of milk can be extended for several days through techniques such as –
Clarification – particles with dense solids are separated from continuous milk phase.
Skimming – separation of cream from skim milk.
Whey Separation – separation of fat.
Centrifugation – process similar to clarification but more precise on particle sedimentation.
Pasteurization – heat treatment process to reduce the number of possible pathogenic microorganisms.
Fermentation – cooling to a specific temperature to influence the quality of raw milk.
Concentration – process of preparing products like butter, cheese and ghee with long shelf lives.
Preservation – process of instigating the natural inhibitors in milk (e.g., lactoferrin and lactoperoxidase) prevent significant rises in bacterial numbers for a limited period.
India in Dairy Processing:
Output of around 163.7 million MT, India is the largest producer of milk globally
India's milk production is expected to reach 180 million MT by 2020
Indian dairy market is amongst the largest and fastest growing markets in the world
India has attained the top position in milk production globally, owing to a huge bovine population. However, the full potential of Indian milch herd still remains unattained
Per capita availability of milk in India has reached 352 grams per day
#1 in the world for production of milk
India's dairy products exports is around USD 0.3 Bn in 2016-17
Major destinations for India's dairy exports are UAE, Pakistan, Bangladesh, Bhutan and Nepal
Processing systems by KERONE
KERONE designs, manufactures and installs machinery batch as well as continuous, power sourced by microwave, infrared, radio frequency and convection radiation for all types of processes including dairy food sterilization. Whether you're making milk for ambient or chilled distribution, fermented products or dairy powders, we thoroughly understand the complexities of dealing with this sensitive product. Reducing environmental impacts is also an important aspect for the dairy industry, and hence all our equipment and solution development is focused on minimizing utilities consumption and reducing the product losses and wastages generated by the process.
Why choose us?
Since the last 42 years, accuracy, efficiency, machine quality and output quality are not just words but KERONE's lifetime commitment towards our profession since its inception, creating a base of more than 1000 loyal customers. Our systems are used to meet the varying demands of numerous industrial applications – all with a level of precision that manufacturers seek. Fulfilling demands as per client's specification has been our USP and we strive to carry the same forward. We also provide detailed assistance for installation without much hassle of complex functioning of the machinery. We always strive to achieve more than client satisfaction with our timely delivery, quality and efficiency towards every oven manufactured by us.