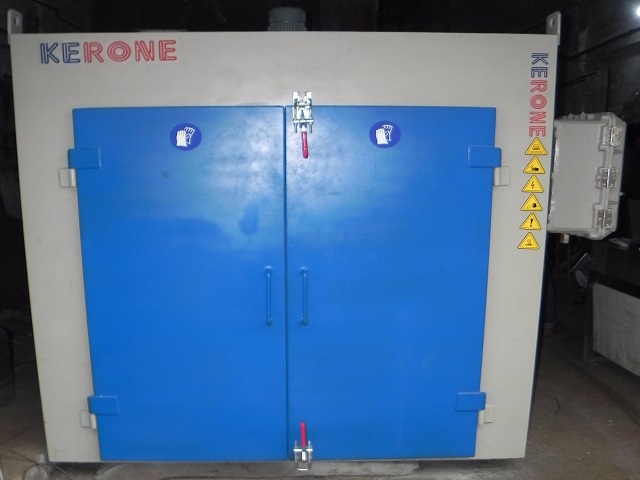 Drum Heating Rooms or Ovens are large container ovens which can hold one or more drums respect to its dimensions (1-196 drums) under controlled temperatures to heat the material/substance in the drums. These ovens use electric, steam or thermal fluid to heat the material up to maximum temperature of 400°F. To differentiate in a better way and provide our clients with the precise solutions to their drum heating needs, we have the following types:
Thermic Fluid Drum Heating Oven
Steam Drum Heating Oven
Electrical Drum Heating Oven
Electric Infrared Drum Heating Oven
Flameproof / Explosion Proof Drum Heating Oven
In this context, let us understand the working of Drum Heating Ovens. These are massive containers made to heat drums holding materials mostly fluids of flammable and volatile nature. This helps to preserve the properties of materials which tend to change in the ambient temperature. It heats the materials that tend to turn to solid in room temperature to retrieve its original form and properties. Following can be listed as its main functions:
Control viscosity: to control the tendency of semi fluids turning into thick & sticky material
Melting: Mets the materials in solid form (eg. Wax)
Freeze Protection: Perishable frozen food items are heated to consume its original form (eg. Orange juice )
Increase Evaporation: Solvents that become volatile at elevated temperature are heated for rapid evaporation.
It functions majorly in the below listed industries:
Oil Industry
Chemicals & Petrochemical Industry
Metallurgical Industry
Pharmaceutical Industry
Plastics Industry
As one of the leading entity of this domain, KERONE is engrossed in providing supreme quality of these units. It can be supplied in many styles such as two door pallet loading type, multi-stacking or roller conveyor floor type. The ovens are of double skin insulated construction with black heat type heaters and fan-forced air circulation. Control is fully automatic with digital temperature control thermostat. Ovens can also be supplied to suit hazardous locations and in special sizes. It is manufactured using approved components, stainless steel robust sheet, and coated with fire and heat resistance paint.
Why choose us?
Accuracy, efficiency, machine quality and output quality are not just words but our commitment towards our profession since last 42 years, creating a base of more than 1000 loyal customers. KERONE's industrial dryers and Ovens are manufactured according to the client's specified requirements. We also provide detailed assistance to avoid hassle of complex functioning of the machinery. We always strive to achieve more than client satisfaction with our timely delivery, quality and efficiency towards every machine manufactured by us.