Ovens have been an integral part of industrial processing, each type of oven has its USP and provides the best result based on process, time, application, and material. Every verity of own has something different to offer but you cannot install all hence oven selection is key, you can visit our website www.kerone.com to get the best possible solution for your need. Here in this post, we are trying to discuss what is rotary dryers and where it finds application.
Wikipedia defines a rotary dryer as "The rotary dryer is a type of industrial dryer employed to reduce or minimize the liquid moisture content of the material it is handling by bringing it into direct contact with a heated gas." However, the entire rotary dryer cannot be fit to this segment, because the type, constructional deviations, heating mechanism, control system, and firing type brings in the entire difference between two rotary dryers.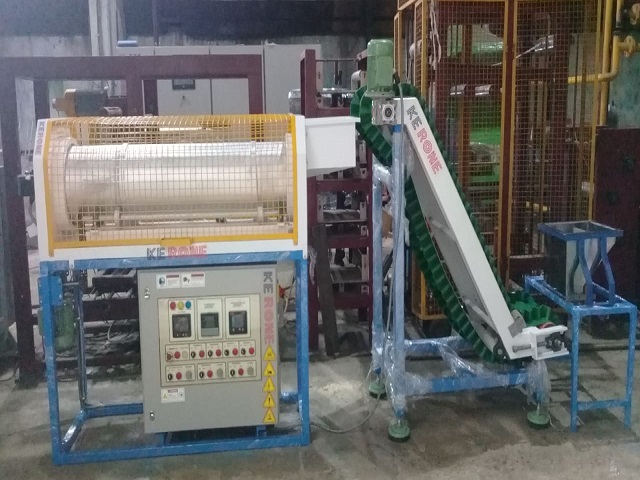 Rotary dryers are commonly constructed with a rotating cylindrical tube; industrial electric rotary ovens circulate material in circular motions within the heating chamber. As the procedure gets up to speed, the hearth can be rotated consistently, physically, and with the assistance of a pointer. The mechanical rotary ovens can be worked with single or various heat zones and the procedure including stacking and emptying happens in a solitary area.
The feed materials are gone through the pivoting chamber alongside a stream of hot gas with the assistance of rotary course dryers. The feed is raised by interior lifters or flights and afterward is dropped in a curtain from where it descends falling from the top, along the length of the dryer. The painstakingly structured trips for this situation are significant in forestalling asymmetric curtains. The materials inside move to start with one side of the dryer then onto the next because of the edge of the tendency of the drum and the rotational development of the equivalent. Some modern rotary ovens accompany twofold and triple pass units with each drum settled inside the past drum.
It is basic for the rotary oven makers to extensively assess the necessities during the creation procedure, which incorporate viewpoints like creation objectives, part mass, height, part setup and development, office area, and temperature profile.
Rotary dryer applications:
Fiber
Food
Powder Coating
Epoxy Curing
Composites Curing
Materials
Printed Circuits
Paint and Coatings
Piece of clothing synthetic curing
Stain preparing
Polymer Sheets
Carbon composites
Fired center heating
Curing of GRP and different composites
Polymer curing
Polyurethane froth curing
Aviation
PTFE, elastic, silicone, nylon curing
Polymerization
Car battery plates
Fireworks and Explosives
Form Dying
Solid curing, and some more
At KERONE, we manufacture both the type of heaters and help clients to choose the best heater/dryer based on the process need, in case of any information and query please contact us at info@kerone.com.