Coating is a covering applied to a product usually referred to as the 'substrate' with a layer of liquid or powder. It is done either for decorative or protective purpose or even both. Coating may be all-covering or may also cover some parts of the substrate.
There has been an increasing demand for industrial coating in the market. Industrial coatings are essentially specialized paints that are used for protective and functional purposes, to resist corrosion and destruction from dust and other materials thus increasing the longevity of the product and enhancing its functions. Coating helps the substrate to achieve a desired level of strength, surface tension and a perfect finish.
Coating is used on the following materials or products: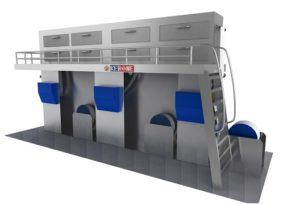 Pharmaceutical Tablets: are coated to confer specific benefits; that broadly range from facilitating product identification to modifying drug release from the dosage form.
Food Items: are coated for various purpose namely; adding nutritional value, enhancing taste and longer preservation.
Metal Equipments: are coated for durability, to reduce wear & tear and protection against corrosion.
Wooden Furniture: are coated for it provides durability, rich colour and minimizes hazards.
Glass: is coated for protection from mechanical and chemical stress, increased scratch resistance and shatter protection and also for beautification.
Textile/Fabric: is coated for superior heat protection, exceptional durability and resistance to chemicals and abrasion.
Paper: is coated to give water resistance and wet strength to the paper or to protect against ultraviolet radiation.
Plastic: is coated for resistance from heat and for rough & tough features to last long.
Types of Coating:
Powder Coating – Powder coating is a multi-step finishing process.
i: The product is cleaned and prepared for coating.
ii: It is coated with a fine powder. The powder covers the product's surface.
iii: The product is then moved into a curing oven, to get heated, allowing the powder to melt and flow into a uniform coating that adheres to the product, creating a very durable and attractive coating around the product after the melted powder cools and hardens.
Liquid Coating – Liquid paint coating is the simple application of paint to products, with the help of various machineries.
We, at KERONE hold the expertise in designing, manufacturing and installing of custom built immersion/Dip Coating systems, which are available in free-standing floor or tabletop models, these are specifically designed for production applications that do not require large in-line systems.
Following are our various types of coating plants and lines:
Gravure Coating Machine
Reverse Roll Coating Machine
Knife-Over-Roll Coating Machine
Air Knife coating
Metering Rod (Mayer Rod) Coating Machine
Slot Die Coating Machine
Curtain Coating Machine
Immersion/Dip Coating Machine
Hot melt Coating Machine
Web Coating Machine
Fabric Coating Machine
Why choose us?
Accuracy, efficiency, machine quality and output quality are not just words but our commitment towards our profession since last 42 years, creating a base of more than 1000 loyal customers. Kerone coating systems can be used to apply a range of coatings, as well as photo-resists and solder masks that are part of the printed circuit board applications – all with a level of precision that manufacturers demand. We also provide detailed assistance without much hassle of complex functioning of the machinery. We always strive to achieve more than client satisfaction with our timely delivery, quality and efficiency towards every machine manufactured by us.