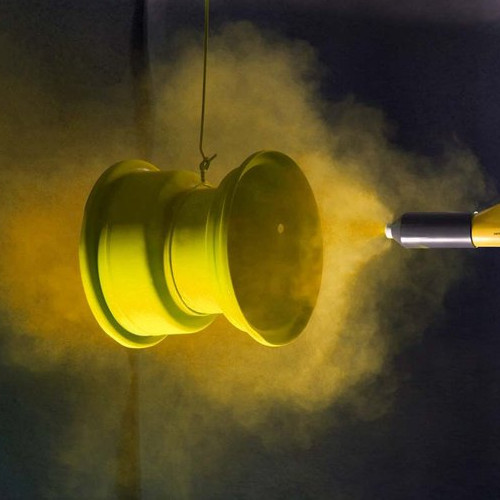 Powder coating could be a dry coating method used as a metal and totally on industrial Equipment's. Powder coating is applied as dry powder through an electricity method, and then cured with heat. Its standard for providing high-quality finishes in terms of each practicality and overall look. The powder coating finishes aren't solely durable however versatile moreover. It will be used on completely different surfaces, together with metal, concrete, steel, and plastic. It's appropriate for each indoors and outdoors applications, and it's one in all the foremost cost-efficient end choices.
Weighing, premixing and size reduction of raw materials
Raw materials usually include organic compound, natural process agents, pigments, extenders and additives like flow and degassing aids.
Each part is then weighed with the mandatory degree of accuracy. All pre-weighed parts are placed in a very intermixture instrumentality consistent with the formulation. The instrumentality is then connected to the blending drive and therefore the raw materials square measure totally mixed by the specially designed premixer cutting blades for a pre-set amount of your time. The raw materials can even be reduced in size to boost the soften intermixture later within the method.
Extrusion of the premix
The mix is fed into the dosing system of the extruder. The extruder barrel is maintained at a constant temperature. The barrel temperature is maintained so that the resin is only just liquefied and its contents are combined using the screw in the barrel. The state of high shear and intimate mixing are maintained within the extruder by precise adjustments. The molten mass manufactured in the extruder barrel is compelled to cool down via a cooling-transporting device. The solidified material is then broken up and reduced in size through a crusher into workable chips.
Micronizing of the chip into the final powder
The chips are base to the wanted particle size in a grinding mill. The chips are fed onto an enclosed grinding wheel with stainless steel pins, which breaks the chips down producing a powder. The powder is transferred through a classifier into a cyclone collection system via a regulated air flow.
In order to reach the optimal particle size distribution (psd) further treatment may be needed which contains of cycloning, classifying, filtering or sieving.
Post mixing, packaging and storage
In order to encounter the customer specification or special conditions of use additives may have to be combined through the final product. Powder packaging is provided in: carton boxes, bags, metal/plastic containers.
The powder can be securely stored if kept in its unopened packaging in a dry, cool place. Elevated temperatures and extended storage periods will outcome in absorption of moisture. Storage state can vary for some powders so the product data sheet should be referred to at all times.
There are two types of powder coating
Thermoplastics: Thermoplastic powder coating finishes become liquid and extremely soft once heated. This eliminates chemical bonding. This method makes the powder coating each reversible and reusable.
Thermosets: Thermoset powder is a bit different in the fact that it forms chemical bonds once cured, making it impossible to recycle it. It is suitable for high heat areas because the bonds prevent it from melting away. This type is much cheaper compared to thermoplastic.
Thermoplastic coatings tend to be thicker and hence more durable compared to thermoset coatings. For this reason, they can be used for a plethora of things from metal, auto parts, and even refrigerators.
Powder coating could be a multi-step surface finishing method appropriate for metal and non-metal substrates. The strategy includes a preparation, application, and natural action stage, and, at a minimum, utilizes a twig gun, spray booth, and natural action kitchen appliance. For the coating method to run swimmingly and at optimum capability, makers and finishing service suppliers ought to take into account many factors, like the substrate material being coated and its properties, further because the style of powder coating material used.
In distinction to the liquid coating method, that utilizes a liquid coating suspension, powder coating may be a dry finishing method that employs fine-grained coating material. throughout the powder coating method, the powder is applied to a substrate's pre-treated surface, melted, so dried and hardened into a protective/decorative coating.
There are three types of this process:
Surface Preparation
Coating Application
Heat Curing
Preparation Stage: Before the application of any powder coating material, the surface of the substrate must be cleaned and treated to ensure that the part is free of dust, dirt, and debris. If a surface is not sufficiently prepared, any remaining residues and deposits could affect the adhesion of the powder and the quality of the final finish. Oil, grease, solvent, and residue is far away from a part's surface with weak alkali and neutral detergents in dip tanks or with wash stations. Parts that have surface debris—e.g., rust, scaling, existing paint or end, etc.—will usually need the employment of a blast space. Some powder coating applications also utilize a dry-off oven
Application Stage: As mentioned within the next section, there are 2 styles of powder coating materials that may be applied. The kind of coating material being employed in a very coating application, in part, determines the applying methodology. There are 2 main ways of powder coating used by makers and finishing service providers
Electrostatic deposition (ESD).
Fluidized bed powder coating.
Curing Stage: The particularities and characteristics of the powder coating process's curing stage are mainly determined by the method in which the powder coating is applied, as well as the type of powder coating material employed.
The powder coating process provides many advantages over conventional liquid coating methods, together with increased durability, capabilities for further specialized finishes, less environmental impact, faster turnaround time, and lessens the material costs. The powder coating method additionally permits for overspray material to be collected and recycled rather than wasted, that decreases the number of stuff requiring disposal, will increase the coating material utilization rate, and lowers the value of materials over time.
Powder coating finishes are a number of the simplest once it involves metal fabrication. If you've gotn't used it before them you have been missing out on one thing really unbelievable. If you'd prefer to see the magnificence of powder coating metal, kindly get connected with Kerone.
We at KERONE have a team of experts to help you with your need for Powder Coating Equipment's from our wide experience. For any query write us at info@kerone.com or visit www.kerone.com.