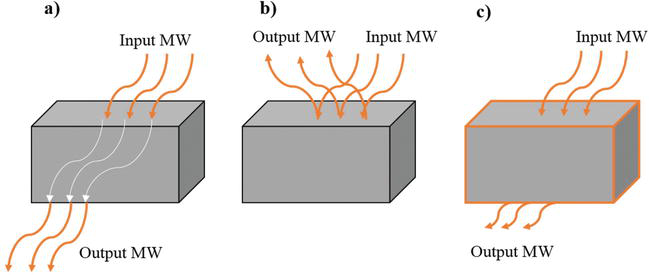 Processing of ceramic materials has also a strong impact in the quality of the consolidated body, as it plays a key role in the resulting microstructure and, as a consequence, in its final properties. Advanced ceramic materials are commonly processed as powders and densified via a high-temperature process. Traditional processing techniques include hot isostatic pressing, mold casting, and sintering in conventional ovens. As ceramics require very high processing temperatures compared to metals and polymers, these processes tend to be very energy intensive and result in higher production costs to the manufacturers. Therefore, new technologies known as nonconventional sintering techniques, such as microwave technology, are being developed in order to reduce energy consumption, while maintaining or even improving the characteristics of the resulting ceramic material. This novel and innovative technology aims at helping industrial sectors lower their production costs and, at the same time, lessen their environmental impact. On the other hand, it is interesting and necessary to know and explore the basic principles of microwaves to advance in the development of materials that demand, every day more, the different industrial sectors.
High-temperature processes are required to consolidate ceramic powders, such as zirconia, alumina, silicon carbide, and so on, in order to obtain full densification of the material. Sintering is a common material processing technique aimed at fulfilling this task. The fundamental principle behind sintering consists in the thermal activation of mass transfer mechanisms when exposing a powder compact, known as a "green" body, to a high-temperature process, at a dwell temperature below the melting point of the material. The main purpose of sintering is to obtain a dense and resistant body with properties as close as possible to those of a theoretical, fully dense solid. However, in some cases, sintering can also be employed to adjust some of the properties based on the performance requirements of the material by not reaching full consolidation, such as in porous materials.
Two main types of sintering can be identified based on the nature of the process: liquid phase and solid phase. Even though the term liquid phase may suggest exceeding the melting point of the material, it is used to describe the addition of compounds with significantly lower melting points that aid in the consolidation of the main powder, which is regarded as the matrix phase and provides the main properties of the consolidated body.
The most important advantages of microwave sintering against conventional sintering methods are listed as follows:
Shorter sintering time and lower energy consumption;
Higher heating rates can be used.
Materials with a finer (Nano metric) microstructure with a high degree of densification and enhanced mechanical properties may be obtained due to the densification mechanisms involved;
Flexible due to the possibility of processing near-net-shape materials.
Microwaves have been used since the 1960s for heating purposes, particularly for food- and water-based products. Industrially, the use of microwave energy has become increasingly important because it represents an alternative to traditional with high-temperature processes. For example, so far, it has been employed in wood drying, resin curing, and polymer synthesis. The growing interest in industrial microwave heating is due mostly to the reduction of production costs resulting from lower energy consumption and shorter processing times.
Microwave sintering is considered a relatively new ceramic material processing technique that differs significantly from conventional sintering methods due to the nature of the heat transfer mechanisms involved. Hence, microwave sintering is classified as a non-conventional sintering technique. This method presents itself as a fast, economical, and flexible processing tool. Some of the most important advantages against conventional sintering systems include lower energy consumption and production costs, reduction of processing times, higher heating rates, and, in some cases, even an improvement in the physical properties of the consolidated material
In a general sense, microwave sintering increases the densification of the material at lower dwell temperatures when compared to conventional sintering, employing shorter times and less energy, and resulting in an improvement of the microstructure and mechanical properties.
We at KERONE have a team of experts to help you with your need for Microwave heating systems for Sintering of Ceramics in various products range from our wide experience.